Authentic Mexican, VEGAN Cuisine.
Born on the Border and by the Sea.
Cool Beans Food Truck started in the border city of Brownsville, Texas in the Rio Grande Valley. Inspired by the Latin street cuisine we grew up with, we decided to recreate our favorite hometown dishes using all natural, organic, animal-free products. Many of our recipes are made from scratch on-site, from our fresh, homemade corn tortillas, spicy jalapeño salsas, cremas, even the mayo atop our Street Corn. We do out best to stay away from soy and gluten as possible, and love to use seasonal ingredients from local farms nearby. After perfecting our recipes, we decided to share our love of food and moved to Austin in 2014. We hope to see you soon!
PHONE
(512) 887-8139
LOCATION
Spiderhouse Coffee
2908 Fruth St
Austin, Texas, 78705
Summer HOURS
Mon-Fri 5:30pm - 11p
Sa-Su 5:30 - 11pm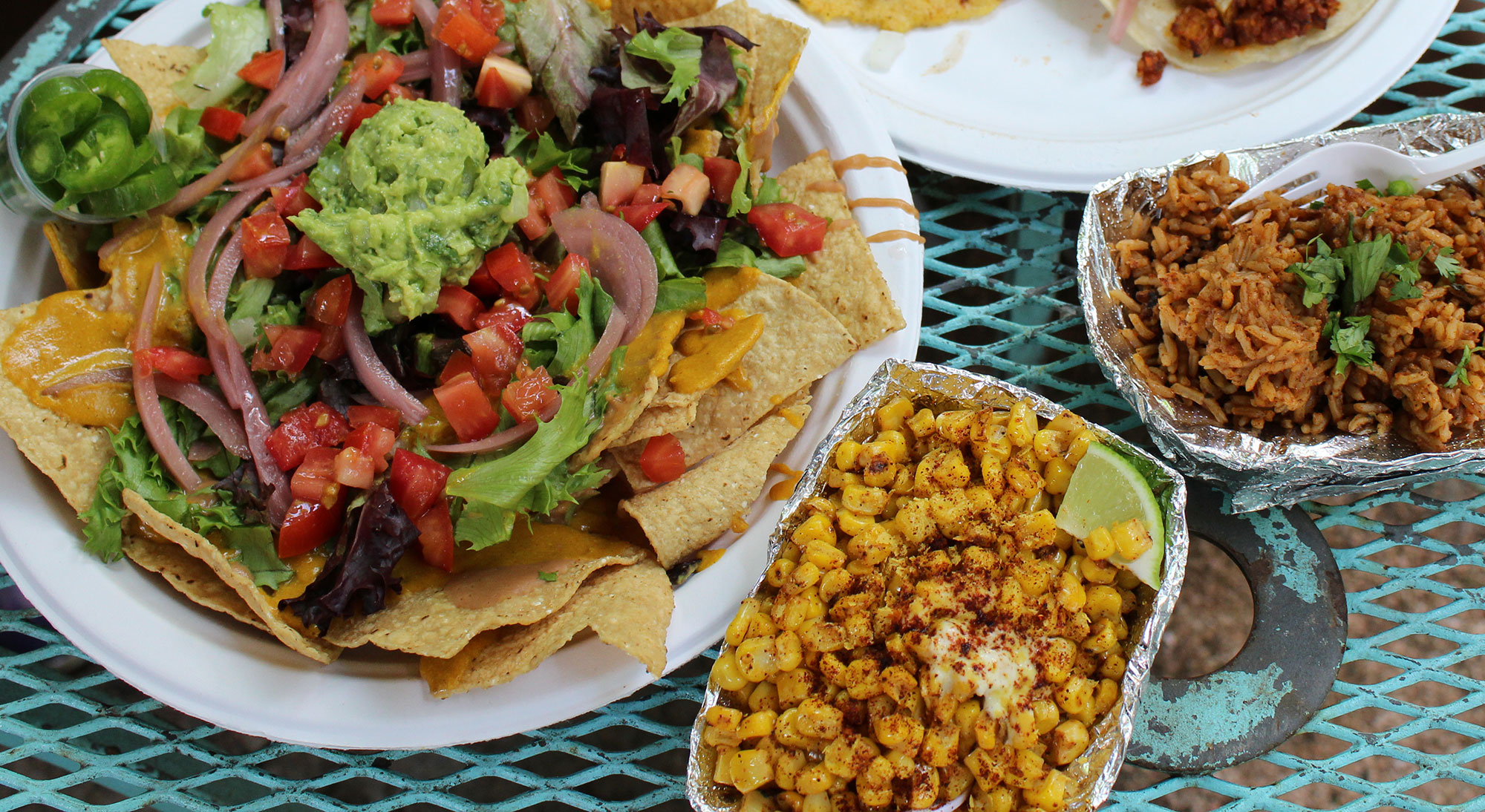 FIND OUR FOOD TRUCK
Spiderhouse Coffee, 2908 Fruth Street
Austin, TX, 78705
HOURS SH
Mon-Friday 5:30p - 11p
Sa-Su 5:30p - 11p
Contact Us
Whether you need catering services, want us to host an event, or even just a recipe for a delicious salsa, we got you!
Cool Beans Spices Up Border Fare With a Vegan Twist
For the past years, the trailer has been one of the best-kept food secrets in Austin. Proprietors Rolando Garza and Priscilla Jerez are ready for that to change.
What sets Cool Beans apart from other vegan places in town is not only what's available—authentic Tex Mex recipes all nearly made from scratch on-site, from the tortillas, brightly spicy jalapeno salsa, to the mayonnaise atop the street corn...
"We want to take everything that we loved about our culture and instill it into the food without animal products"
BOSS BABES ATX: LOCAL GEM
Boss Babes atx Local Gem
"Once I became vegan I started learning more about cooking and food. I suddenly became more aware of the challenges to cooking by removing meat and dairy, and I loved it. I learned from everyone and took every opportunity to learn.
I picked up tips from some vegan bloggers, my mom's recipes and even just talking to farmers at the local markets about different vegetables and how to cook them. Through these endeavors, I got to live a healthier lifestyle, I was able to learn the new things about cooking. Ultimately, this empowered me to create things that are dear to my heart and culture and have my own vegan twist to it."
The Rise of the Maker Community In Austin
"Cool Beans was created with my partner and I after our lifestyle changed in to an all-vegan, plant-based diet. We manifested our dreams of creating all of our favorite Latino cuisines that not only nourish your body but nourished the soul. Cool Beans is the idea of eating that bomb menudo with your tías, tíos, and primos without animal products and still not missing a beat. Delicious vegan Mexican food is possible, and it in no way takes away from our cultures. "
Best tacos in Austin Texas
There isn't a great vegetarian or vegan tradition in Texas tacos. Thankfully, taco ops like Cool Beans taco truck from Rolando Garza, a native of Brownsville, Texas, and Priscilla Jerez, from Los Angeles, are changing that. The Q-rizo subs quinoa for the spiced pork while staying with the potatoes and Garza's grandmother's recipe. "It's heavy on the apple cider vinegar," he says. And, indeed it is. So much so that it flirts dangerously with the kind of face-squishing, ears-folding-over-the-eyes flavor characteristic of the chorizo y papas taco at Tacos Gus in Mexico City. But this is in the Q-rizo's favor -- so uncanny is it in resemblance to the real thing. Make sure to grab one behind the Spider House Café & Ballroom or the Circuit of the Americas Formula 1 race track.
NEED DELIVERY? WE GOT YOU COVERED!
Click on any of the links below and get delivery from one of our trusted partners!